Organization
Covid-19
During the current pandemic, it is important to us to make participation as safe and pleasant as possible for everyone. The information regarding COVID-19 is continuously updated. Please note that it is your responsibility to check the current regulations regularly.
For personal attendance, please follow the information from the Federal Ministry of Health. For specific information from the state of Hessen, the city of Frankfurt am Main and the Goethe-University, please find a link below. Take care and stay safe.
Venue – Goethe University Frankfurt
Siteplan
You will find a siteplan of Goethe-University Frankfurt following this link: https://www.uni-frankfurt.de/73177180/GU_Lageplan_Campus_Westend_0318_Mensa_Bib_ENGL.pdf?
The conference will take place in Auditorium Complex (see number 13 at the siteplan above).
Drive and Parking
Public transport:
The nearest stops (Holzhausenstraße and Miquel-/Adickesallee) are about a five-minute walk.
For information on public transport and specific connections see: https://www.rmv.de/c/en/homepage
By undergrund (U) and surburan (S) rail:
From Frankfurt Central Station: S1 – S9 train via Taunusanlage -> Hauptwache -> U1, U2, U3, U8 train via Eschenheimer Tor and Grüneburgweg -> Holzhausenstraße or Miquel-/Adickesallee
From Frankfurt Airport: S8, S9 train via Frankfurt Hauptbahnhof and Taunusanlage -> Hauptwache -> U1, U2, U3, U8 train via Eschenheimer Tor and Grüneburgweg -> Holzhausenstraße or Miquel-/Adickesallee
By bus:
No. 36 bus to Uni Campus Westend (IG Farben Building) from Westbahnhof (via Bockenheim Campus) or Sachsenhausen Hainer Weg
No. 64 bus to Bremer Platz (IG Farben Building) or Bremer Straße (Gisèle-Freund-Platz) from Hauptbahnhof Südseite in the direction of Ginnheim
No. 75 bus from Bockenheimer Warte to Max-Horkheimer-Straße (Seminar Building, PEG Building, ExNO)
No. 32 bus from Westbahnhof or Ostbahnhof to Miquel-/Hansaallee (Seminar Pavilion)
By taxi:
Use the address ″Theodor-W.-Adorno-Platz 1" (formerly Grüneburgplatz 1)
By car:
Take the A66 at Nordwestkreuz Frankfurt and follow the motorway. The A66 turns into Miquelallee. Follow this until the intersection Miquelallee / Eschersheimer Landstraße. Here you turn south on the Eschersheimer Landstrasse.
Then turn right into the second street (Bremer Straße). Drive downhill and turn right into the first street (Fürstenberger Straße).
Unfortunately, there are no parking opportunities directly on the campus during the conference. You have to look for a parking space in the surrounding streets. The nearest car park (Parkhaus Palmengarten) is in Siesmayerstraße 61, 60323 Frankfurt am Main (Distance: 1.3 km; 1€ per hour).
Wifi on-site
For full use of all services, including the online rooms, we recommend that you bring a laptop or other internet-capable device and a headset to the conference. Each participant receives a personalized user name and a password for the current registration, with which they can register via the university network called "Flughafen" or "Freiflug". We also have an Eduroam network for people who are generally associated with a university. If required, you will receive further information on-site when you register.
Registration on-site
Participants with a permission to physically attend the conference in Frankfurt (please note that an individual application and permission by IATSO is necessary), can register at the registration desk in Frankfurt, if they are either fully vaccinated, fully recovered from COVID-19 or provide a negative COVID-19 test that is not older than 24h. Please note that you need to provide a certificate that proves one of these three conditions. At the registration desk you will receive further documents (e.g. name badge).
Lockers
You will find lockers for your personal belongings in the ground floor of the conference building. To use the lockers, please follow the instructions below. If you have forgotten your pin, please contact the staff at the gate.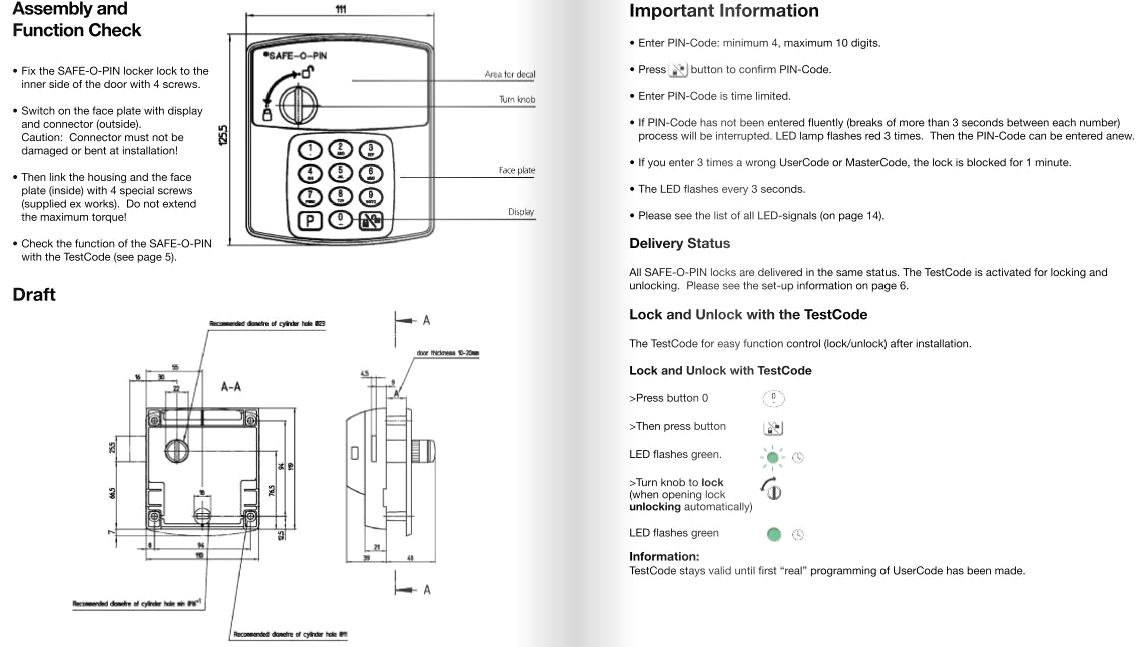 Good to know
Conference language
The official language of the conference is English. Please note that no simultaneous translation services or subtitles will be provided. As a new feature this year, there will be an additional panel in German. In this panel, the keynote speakers will give their presentations in German only.
The official language in Germany is German but many people, especially in a larger city like Frankfurt am Main, speak English at a reasonable level.
Time zone
Germany will be on the Central European Summer Time (GMT + 2h) during the Conference.
Electric supply
The electric system uses 230V at a frequency of 50 Hz. In Germany, type F and C sockets are used which are compatible with CEE 7/4 and CEE 7/16 plugs. For other types, please be sure to bring your own adapters. For devices with 110/120V, a voltage converter is required.
Currency
Germany belongs to the eurozone therefor the official currency is the Euro (EUR, €) with its subunit cent (c).
Coins: 1c, 2c, 5c, 10c, 20c, 50c, €1, €2
Banknotes: €5, €10, €20, €50, €100, €200, €500.
To see the exchange rates please check out the reference rates from the European Central Bank:
https://www.ecb.europa.eu/stats/policy_and_exchange_rates/euro_reference_exchange_rates/html/index.en.html
Opening hours
Most shops are open from Monday to Saturday and remain closed on Sundays and state holidays. Museums are usually open on a daily basis. ATMs are accessible around the clock.
Weather
Frankfurt is in the European midfield in terms of temperatures. The weather in August is generally pleasant and usually sunny but it can cool down considerably during the nights. Detailed information on the weather forecast can be found on all popular websites or apps immediately before the congress, for example:
https://www.hessenschau.de/wetter/frankfurt/index.html
Important telephone numbers:
110: Police
112: Ambulance and Firefighters
116117: On-call medical service
During a visit to the Germany, the European Health Insurance Card (EHIC) enables an access to a necessary state-provided healthcare.
Recommendations for Frankfurt
Recommendations for hotels
We looked for hotels near the Goethe-University, Campus Westend. Please note that the following hotels do not offer special conditions or discounts for conference participants. We kindly ask you to contact the hotel directly and make your booking independently.
Hotels near Goethe University, Campus Westend
| | | | |
| --- | --- | --- | --- |
| Name | Address | Website | Distance |
| Hotel Liebig | Liebigstraße 45, 60323 Frankfurt am Main | https://hotelliebig.de/en/hotel-3/ | 1,0 km |
| Hotel Mondial Frankfurt | Heinestraße 13, 60322 Frankfurt am Main | http://www.hotelmondialfrankfurt.de/en_index.html | 1,0 km |
| Advena Motel Frankfurt | Eschersheimer Landstraße 204, 60320 Frankfurt am Main | https://motel.advenahotels.com/?lang=en | 1,1 km |
| Turmhotel Frankfurt | Eschersheimer Landstraße 20, 60322 Frankfurt am Main | https://turmhotel-fra.de/gb/index_gb.html | 1,4 km |
| The Doorman | Leerbachstraße 7, 60322 Frankfurt am Main | http://www.thedoorman.de/en/ | 1,5 km |
| The Suite Hotel | Fellnerstraße 3, 60322 Frankfurt am Main | https://www.the-suite-hotel.de/en/ | 1,6 km |
| THE FLAG West M. | Bockenheimer Landstraße 38-40, 60323 Frankfurt am Main | https://the-flag.de/en/hotels-serviced-apartments/frankfurt/west-m/ | 1,6 km |
| Hotel Palmenhof | Bockenheimer Landstraße 89-91, 60325 Frankfurt am Main | https://www.palmenhof.com/en/index.html | 1,8 km |
| Hotel West | Gräfstraße 81, 60486 Frankfurt am Main | https://www.hotelwest.de/en-gb/home | 2,3 km |
| Hotel Falk | Falkstraße 38A, 60487 Frankfurt am Main | https://hotel-falk.de/index.php/home-en.html | 2,3 km |
If you would like to look for a hotel in another district of the city, you will find a hotel directory for the city of Frankfurt here:
https://www.frankfurt-tourismus.de/en/Information-Planning/Brochures2/Frankfurt-Hotels
Recommendations for Leisure
Frankfurt City – The world's smallest metropolis
As the European financial center and fair trade city, Frankfurt and its airport are global traffic hubs. In addition to its high-rise architecture and breathtaking skyline-view, the city on the Main is known for its riverside. Poets and thinkers such as Goethe, or the founders of the Frankfurt School have wandered through Frankfurt's streets, passed St. Pauls's Church down the Römerberg, and perhaps ended up with Ebbelwei, Grüner Soße and Frankfurter Würstchen – typical culinary delights.
Since it is unfortunately not possible to book social events on a fixed basis due to Corona, we recommend that you explore Frankfurt alone or in a small group according to your individual wishes. Find a group or go off on your own. Frankfurt offers something for everyone: architecturally, culturally and culinary.
To learn more about the city full of contrasts, its history and monuments, please have a look at the following links and especially Frankfurt's tourist information: https://frankfurt.de/english/discover-and-experience/about-frankfurt.
Online City Tour: https://frankfurt.de/english/discover-and-experience/sightseeing/online-city-tour
Online Campus Tour:
Best of of Frankfurt's guided tours:
https://www.frankfurt-tourismus.de/en/Discover-Experience/City-Tours2
Frankfurt's 37 museums at a glance:
https://frankfurt.de/english/museums-and-theatres/museums/museums-at-a-glance
The new old town:
https://frankfurt.de/english/discover-and-experience/sightseeing/the-new-frankfurt-old-town
Frankfurt's highest buildings:
https://frankfurt.de/english/discover-and-experience/sightseeing/high-rise-buildings
Frankfurt by foot – A colourful city in green
As walking routes and outdoor spaces have become the focus of recreational attention during the pandemic, we would like to give you a small insight into what Frankfurt has to offer. Even though Frankfurt is a financial metropolis, it is not a concrete jungle but a very green city. The most famous piece of green is probably the following one. Frankfurt's Green Belt is the city's premier recreational area. Some 80 kilometers in length, the Frankfurt Green Belt is the most important natural feature of the Rhine-Main Regional Park and Frankfurt's green lung. It consists of three different landscapes, the Berger Rücken in the north-east of the city, the Niddatal along its entire course in the Frankfurt city area in the west and north, and the Frankfurter Stadtwald in the south.
But the public gardens are also worth a look, as they offer a great variety. Flora from all over the work is on display in the Palm Garden, while domestic plants can be found in the Botanical Garden. Except for the Palmengarten, all of the following facilities are free of charge:
Frankfurt's Public Gardens:
Bolongaro Garden
Botanical Garden
Chinese Garden
Frankfurt Zoological Garden
Korean Garden
Nizza
Palm Garden
For an overview of Frankfurt's parks and gardens follow the link: https://www.frankfurt-tourismus.de/en/Discover-Experience/Leisure-and-Sports/Green-Frankfurt
Frankfurt Food – Attention food lovers
In addition to its specialities such as Grüne Soße, Frankfurter Würstchen or Handkäs' mit Musik, Frankfurt offers a wide range of culinary delights. To help you find a nearby place to eat at the end of a long day at the congress, we have compiled a list of some of the restaurants located around the venue.
You will find more information about restaurants in Frankfurt here:
https://www.frankfurt-tourismus.de/en/Discover-Experience/Cuisine/Restaurants-in-Frankfurt
To take Frankfurt and its delicacies home with you, you will find a list of typical recipes here:
https://www.frankfurt-tourismus.de/en/Discover-Experience/Cuisine/Recipes
Restaurants near the venue (Goethe University, Campus Westend)*:
* Due to the pandemic situation, we are currently unable to give you any reliable information about the restaurant´s regulations for protection against the corona virus. Please understand that you maybe have to contact the restaurant to get valid information about the actual regulations in August.